Will Virat Kohli and Suresh Raina be dropped From Team India
Will Virat Kohli and Suresh Raina be dropped From Team India
The Day's are counting for the two Indian Batting sensation in the ODI'S for Virat Kohli and Suresh Raina everybody know that both these batsmen can win you game's single handily in any form of cricket when they are in good form but both these batsmen are performing below par average in recent history in international cricket  ,for the player's who made history in cricket at very young age  are hurting india with poor form with the bat
Virat and Raina in Team even after poor performances
The problem first started with virat in india's tour of england last year 's and he still seem's to be not  recovered it leaving his cameo of century against Pakistan in opening game of world Cup 2015 in Australia and Suresh Raina who was shining like a sun in England in same series in which problem for virat started , later in all series'  raina also joined party with virat as partner in crime with poor batting form and other with few name which is big as these two virat and raina in Tri series and World Cup in Australia in then in India's tour of Bangladesh. leaving virat's only century against Pakistan in the world cup opener and raina's important knock against Pakistan , west indies and bangladesh.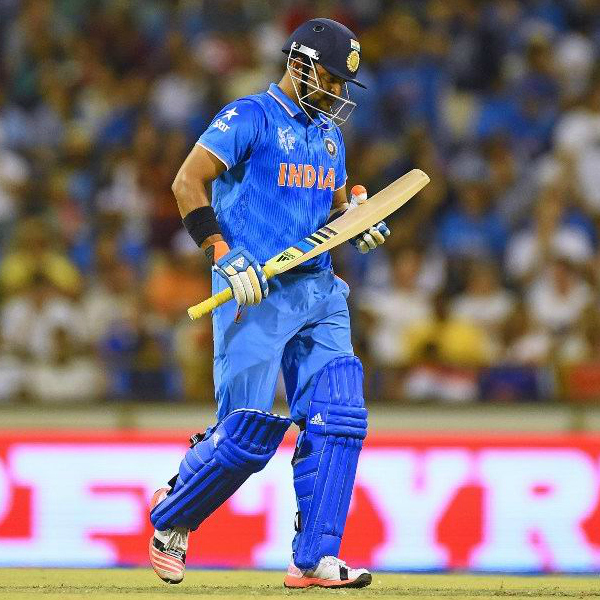 Poor show from virat with average of 38.5 in 8 matches at position 3 and  raina with average of  35.5 with same number of matches . even after captain dhoni and india backed them but they are hurting the team with poor form.
And After tour of Bangladesh every wondered why they are selected to ODI against south Africa What to do with this big name of  Virat and raina who is not performing and occupies the slot in the lineup ,in a country like india lakh of player's who dreaming to play atleast one match for the country, Both this player's and other's player's inside side are completly wasting the chance given to them with the reason saying that we mentally tired of playing a lot of cricket in quick succession both this great player should give rest and new talent's should be tested in absence of them.
virat and Raina are in getting good start's but they unable to convert it into big number as expected ,well i accept that they are human being not a scoring machine ,both should be dropped from the third ODI against South Africa which will them realise the importance of getting into the palying XI and tempting them to  get back  into the form   .but it is very difficult to find a replacement for any of these two match winner's